Lawrence Scott is a prize-winning Caribbean novelist and short-story writer from Trinidad & Tobago. He is the recipient of a Lifetime Literary Award for his "significant contribution to the development of Trinidad and Tobago's Literature" in recognition of the 50th Anniversary of Trinidad and Tobago's Independence, 1962-2012. He was elected as a Fellow of the Royal Society of Literature in 2019.
Papillote Press announces Lawrence Scott's latest novel Dangerous Freedom. In this radical and moving novel, Scott weaves fact with fiction to reveal "the great deception" exercised by the powerful on a mixed race child born in the late 18th century and brought up in the London home of England's Lord Chief Justice
"Dangerous Freedom reveals how powerfully an act of fictive empathy can dispel long shadows of historical forgetfulness"Marina Warner
"An absolutely wonderful read, rescuing the enigmatic figure of Dido from the frames of history and giving voice to her story and that of her enslaved mother."Susheila Nasta
Lawrence Scott's first Novel Witchbroom is now available in a French translation by Chrsitine Pagnoulle; Balai de Sorcière, published by Mémoire d' Encrier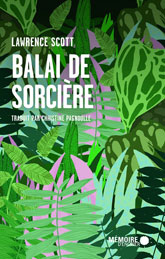 He has been awarded and short-listed for Commonwealth Writers' Prizes, Best Book and Best First Book in Canada & the Caribbean. He was three times nominated for The International Impac Dublin Literary Award. He was once Long-Listed for The Whitbread Prize and The Booker Prize. He was awarded the Tom-Gallon Short-Story Award.
His work has stimulated critical work into the post-colonial novel's use of magic-realism, carnival, calypso, her/history, storytelling, dialect/standard narratives, identity, landscape, the body, race, religion and the study of "Queerness."
Academic research has included the Golconda Research/Writing Project, a "Public History" project, the recording and transcribing of oral histories from "The Sugar" in Trinidad. He has also researched extensively the life and times of Michel Jean Cazabon, Trinidad's 19th Century artist, which has led to his new novel "Light Falling on Bamboo" published by Tindal Street Press.
His work has been read on the BBC. He was a judge for the Commonwealth Short-Story Competition, the Small Axe Short Fiction Award, and an 2015 Anglophone judge of the Grand Prix Littéraire de l'Association des Ecrivains de la Caraïbe from the Congrès des Ecrivains de la Caraïbe, Guadeloupe. His poetry has been anthologised in Europe and the Caribbean. He travels frequently in North and South America and the Caribbean and has read, lectured and talked about his work internationally.
He has been Writer-in-Residence at the University of the West Indies and a Senior Research Fellow of The Academy for Arts, Letters, Culture and Public affairs at The University of Trinidad & Tobago (UTT).
He lives and works in Trinidad and England, writing and teaching creative writing. He is resident in London and Port of Spain.
He is an External Examiner for the MA Fine Arts Creative Writing Course at the University of the West Indies.
His literary archive is being deposited at West Indiana & Special Collections Division The Alma Jordan Library The University of the West Indies, St. Augustine Trinidad, Trinidad and Tobago, W.I.